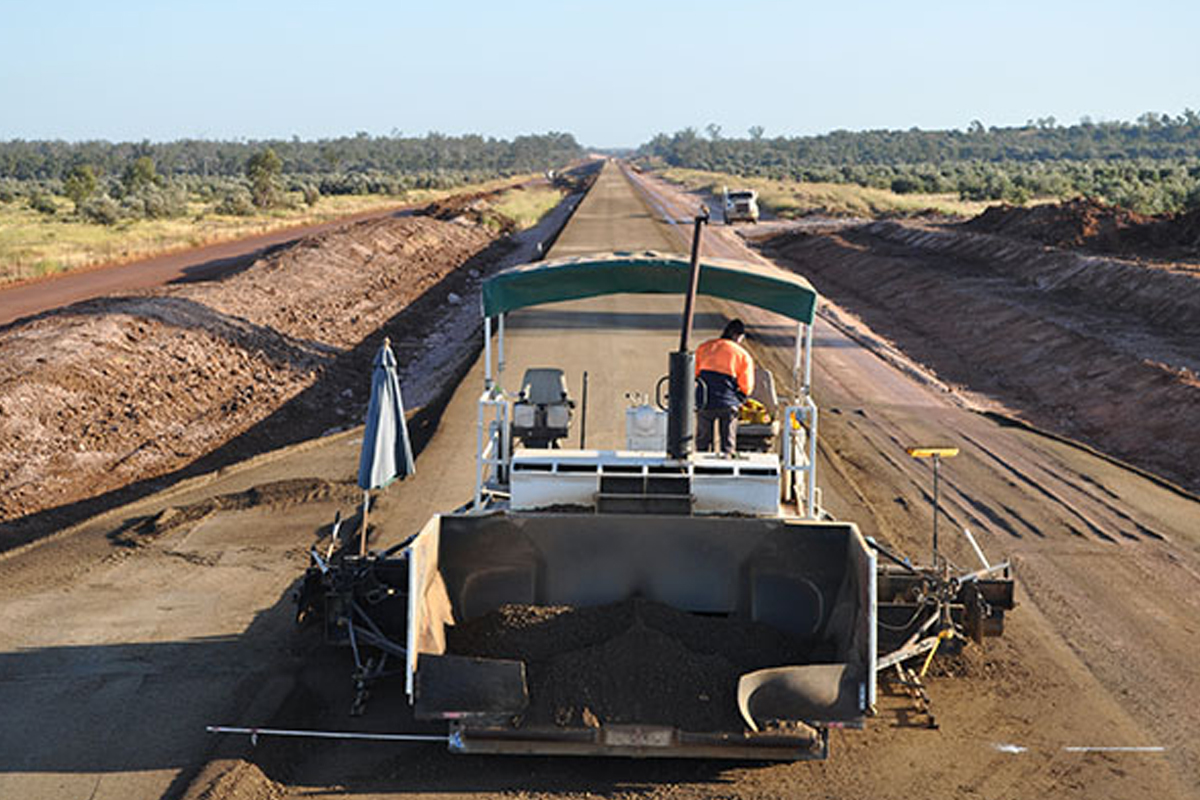 Since 1984
Beaumont Gravel Paving was incorporated as Beaumont Stabilising in October 1986 by Peter Beaumont. Peter started with a Pugmill, mixing material for the road construction industry. Soon after this, Peter purchased his first road base paving machine. 1997 provided an opportunity to work on the Hong Kong Airport project, one of the most exciting civil projects of its time.
Beaumont Gravel Paving has been involved in the Paver placement of Road and Airport pavements since 1984. Currently the company has eight Paving Machines in operation. (3 x ABG 420, 2 x ABG 511, 1 x ABG 411 & 2 x ABG 280 Pavers).
Beaumont Gravel Paving operates a fleet of 8 road base pavers and one shoulder paver.
Our pavers are used to lay cement treated (bound) base, or wet mix (unbound) base. We have also used our paving machines to lay no-fines concrete in road tunnels. This process was successfully implemented on major tunnelling projects in the Sydney region including the M5 Tunnel, Lane Cove Tunnel and the Cross-City Tunnel.
This material is layed on top of surveyed formation areas. The pavers distribute the material from a minimum width of 3.5m to a maximum width of 12m.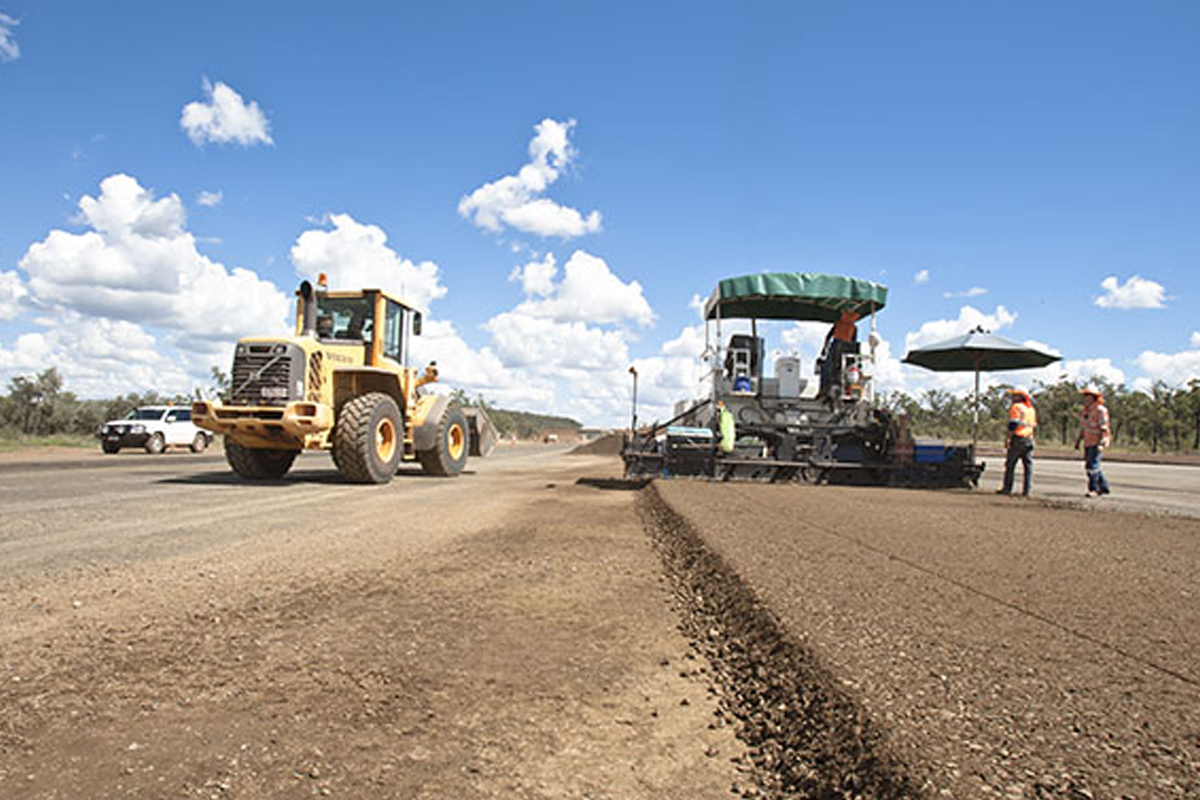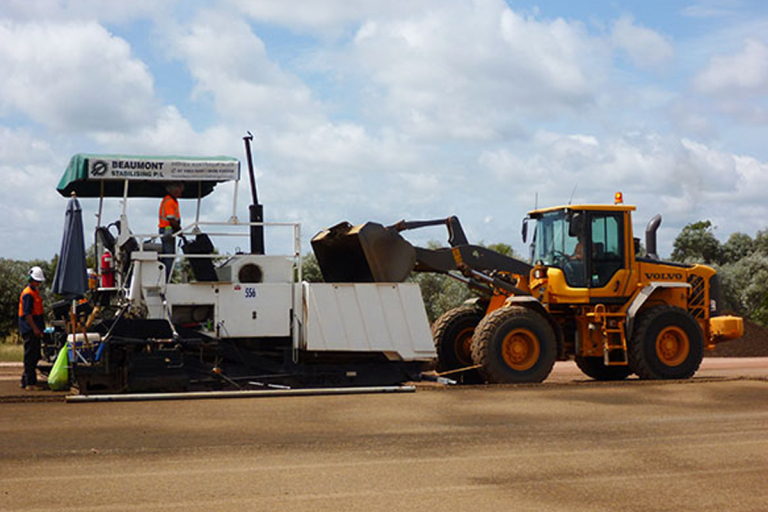 We can achieve very accurate level results and this is the reason many clients choose our services over other methods of laying road base.
In order to achieve the outcomes required by our clients we use Paveset level control technology.
Capabilities:
AGB 511: max width 12m, process up to 2,500t / day
AGB 420: max width 12m, process up to 2,500t / day
AGB 280: max width 6m, process up to 1700t / day
Airport Pavements:
• Sunshine Coast Airport Expansion (2019)
• Brisbane New Parallel Runway (2019)
• Air7000 Edinburgh (2018)
• Gold Coast Airport Lift (2016)
• Cloncurry Airport (2015)
• Woomera Aerodrome (2014)
• Port Macquarie (2013)
• Roy Hill Aerodrome, WA (2013)
• Boolgeeda Aerodrome, WA (2013)
• Prominent Hill Runway (2011)
• Clermont Runway (2011)
• Gladstone Airport (2010)
• Avalon Airport (2010)
• Williamtown Airport (2009)
• Darwin Airport (2008)
• Canberra Airport (2006)
• Sydney Airport (2005)
• Brisbane Airport (2003)
• Port Lincoln Airport (1999)
• Mt Hotham Airport (1999)
• Richmond Airbase
• Hong Kong Airport (1997/98)
• Cairns Airport
• Tamworth Airport
• Moura Airport
• Coolangatta Airport
Road Pavements
• Transmission Gully, Porirua, New Zealand (2019)
• Pacific Highway Woolgoolga to Ballina (2017)
• Bruce Highway Cooroy to Curra (2016)
• Townsville Ring Rd Section 4 (2016)
• Bruce Highway, Cooroy to Curra (2015)
• Cloncurry Bypass (2015)
• Holbrook Bypass (2013)
• Trackstar Alliance, Qld (2013)
• Townsville Port Access Rd (2012)
• Nagambie Bypass (2012)
• Gulf Development Road (2012)
• Kirkwood Rd, Gladstone (2010)
• Joint Levy Rd, Mackay (2010)
• Steve Irwin Way (2009)
• Bruce Highway, Caboolture (2009)
• Caboolture By-Pass (2009)
• Sarina Jilalan (2009)
• Townsville Ring Road (2007/08)
• Woodlands to Veals Project, Townsville
• Bucasia Road, Mackay
• Hospital Bridge Rd, Mackay
• Bruce Highway Upgrade, Miriam Vale
• Chiltern, Springhurst, Wangaratta & Ballarat By-Passes, Victoria
• Gold Coast M'way, Ormeau, Qld
• Gatton By-Pass, Gatton, Qld
• Bruce H'way, Yandina to Cooroy
• Port Wakefield Rd, Sth Australia
Road Tunnel Pavements
• WestConnex New M5 Sydney (2019)
• WestConnex Tunnel Sydney (2018)
• CrossCity Tunnel Sydney (2005)
• LaneCove Tunnel Sydney (2005)
• M5 Tunnel Sydney (2001)
Rail
• Regional Rail Link, Werribee (2014)
• Trackstar Alliance (2013)
• Coal Connect, Glenden (2011)
• Middlemount Rail Project (2011)
• Bohenia Railway, Rolestone